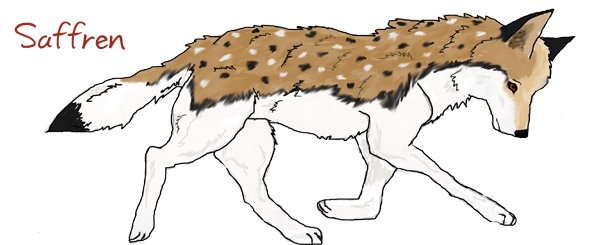 T h e _ B a s i c s
Name:
Saffren (pronounced Saff-ren)
Aliases:
Saf, a few friends called her Fire-eyes
Gender:
Female 
Species:
Dire wolf/ grey wolf
Eye Color:
A crimson red color
Rank:
Gamemaker
Physical Traits:
She is a bit taller than the average wolf though she isn't very bulky. Saffren is built more for running.
Physical Faults:
Her appearance may come off as intimidating due to her larger size. Though many opponents are able to outweigh her.
Physical Strengths:
Saffren is sleek and good at dodging attacks. What she lacks in strength she makes up for in her speed and agility. 
T h e _ M i n d _ W i t h i n
Personality:
 She prefers to be around friends and people she is familiar with though she will also accept independence. Saffren can be a tricky figure to understand sometimes. She may be calm and reserved on the outside and most of the time it's hard to tell what she's really thinking. But friends bring out the best of her. She is easygoing and enjoys hanging out with friends. Though she may snap from time to time she doesn't do it for no reason. 
History:
Saffren was born in a litter of four with two sisters, Rye and Harlow. As well as a brother named Lanx. Ever since she learned to crawl Saffren would sometimes scare her parents by leaving their den. She was always curious and usually the troublemaker in the family. She would try to sneak out of the den and many times she would convince her siblings to follow her. Saffren gradually learned about dozens of different predators from her father. She learned hunting skills and combat techniques but battle training was not her best skill. 
Saffren grew used to living pack life, hunting with her kin and always staying within the safety of the pack. But one day the pack went on a migration pattern in search of an elk herd. Saffren was about a year and a half old. But the herds migration patterns had changed. Humans had built strange things along the path of the elk, destroying the grasslands of the herd and forcing the herd to change it's direction. The pack wandered towards the human places, unsure of what they were. There wasn't much left, a few remains of broken down buildings remained.
One day Saffren wandered towards a fast-flowing river with her siblings. There was some sort of bridge that had been built by the humans long ago. It was old and unstable but that didn't stop Saffren from walking onto the loose boards. Suddenly the old bridge gave way sending the female canine tumbling into the river. She was a great swimmer but even a full grown wolf would not have been able to fight the rapids. Saffren's siblings disappeared from sight as she was swept down the river. She fought to keep her head above water as she desperately tried to reach the banks of the river. She was tossed about the cold water unable to see where she was going. Her mouth filled with water and her eyes stung. Saffren slowly stopped thrashing as she began to lose consciousness. 
Saffren's crimson red eyes opened suddenly. She lay on the banks of a pond connected to the river. Her head hurt and she was exhausted. There was no sign of her pack or her siblings, the forest around her was dead quiet. She was utterly alone and a bit scared. Saffren ventured into the forest encountering strange creatures she had never seen before. She hunted on her own and gradually grew stronger but as she continued on she had no idea she was walking into another pack's territory.
She encountered her first canine, a male grey wolf with dark fur and golden eyes. His name was Fehu and he was a loner that had come from a place far away. He warned Saffren to stay away from the band of wolves that lived close nearby. He said that they were careless and cruel to outsiders. followed by his warning, two wolves appeared later that day. They were a part of the band and claimed that Saffren and Fehu were stealing prey from their lands. They attacked without further warning. Fehu could barely fend them off but Saffren also joined the fight. Being a dire wolf, she was able to fend off both wolves. They had never seen a dire wolf before and eventually they dashed off. Saffren was then able to heal Fehu with a few basic herbs she found.
Fehu and Saffren wandered on further into the forest and had no further problems with the band. They came across another abandoned building made of crumbling brick walls. The land around it was bare and empty of any signs of life. The two canines moved on searching for prey and water sources. They came across more strange animals; birds that could mimic voices, and the occasional bird that would whistle back if you howled at it. They ventured further but still found very little prey. One day Saffren went exploring a bit, leaving Fehu at their makeshift shelter in the abandoned building. She was able to catch a hare during her short trip. Though on her way back Saffren could smell a strange scent leading towards their shelter. Something between a wolf and a dog.
Saffren began to run towards the building. She could hear a snarling noise coming from the brick building. Dropping the rabbit Saffren ran into the building in time to see a large mutt that looked like a wolf bite down on Fehu's throat with crushing force. Fehu's gold eyes full of pain glanced at Saffren and then he was dead. Snarling, Saffren attacked the strange canine. She bit at it several times and clawed at it's eyes even after it had died. That night Saffren left the structure with a heavy heart. She encountered another wolf creature along the way and attacked that one too without a warning. Fehu's death seemed to follow her no matter where she went. With a heavy heart Saffren continued on. She came across another strange structure months later. It had a strange range of territory and predators. It was here that she found her siblings and met a few other canines.
Alliances in Games:
None so far
Kin:
Rye ♀ - Lanx ♂ - Harlow ♀
Parents:
Resin ♂ - Everest ♀
Mate:
None
Crush:
None as well
Mental Strengths:
She's great at strategy, solving puzzles quickly or changing her fighting technique to match her opponent. 
Mental Faults:
Saffren is very protective of her friends and on few occasions her anger or curiosity might get the best of her.